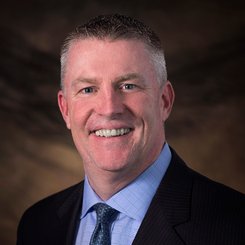 Christopher E. Selgrath, D.O.
Specialty: Joint Replacement
Dr. Selgrath is a board-certified, fellowship trained orthopaedic surgeon specializing in joint replacement of the hip and knee. Dr. Selgrath completed his undergraduate education at LaSalle University and graduated from the Philadelphia College of Osteopathic Medicine with honors. He served a five-year residency in orthopaedic surgery at Graduate Hospital/PCOM, completing his shoulder and elbow training at the Rothman Institute in Philadelphia. Dr. Selgrath was elected chief resident by his peers and attending staff during his final year of training. Following residency, Dr. Selgrath accepted a fellowship position at the Medical College of Virginia/Virginia Commonwealth University. While in fellowship, he performed over 1,200 joint replacement surgeries of the hip and knee, and was awarded first place in the national research competition held at the American Academy of Orthopaedic Surgeons annual meeting in San Francisco in 2004.
Dr. Selgrath is a board member of the Philadelphia Orthopaedic Society (POS) and past president of the adult reconstruction section of the American Osteopathic Academy of Orthopaedic Surgeons (AOAOS). He is a Fellow of the American Academy of Orthopaedic Surgeons (AAOS) as well as a member of the board of directors of the non-profit foundation For Pete's Sake, which provides respites for young cancer patients and their families during their battle against cancer.