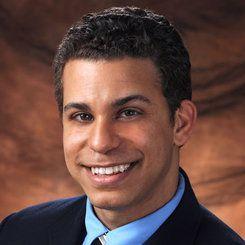 Kris E. Radcliffe, M.D.
Specialty: Spine
Dr. Kris Radcliff is a fellowship-trained Spinal Surgeon who holds the title of Associate Professor with joint faculty appointments in orthopedic surgery and neurological surgery at Thomas Jefferson University. Dr. Radcliff specializes in the latest techniques in spinal reconstruction including minimally invasive spinal reconstruction procedures and artificial disk replacement.
Dr. Radcliff is actively interested in exploring alternatives to traditional fusion surgery. Dr. Radcliff recently won the prestigious best paper award at an international meeting of cervical spine experts (Cervical Spine Research Society) for a study comparing cervical disk replacement and fusion.
Dr Radcliff completed his undergraduate education at Harvard University and medical school at Duke University School of Medicine. He completed his orthopedic surgery residency at the prestigious Baylor College of Medicine in Houston, Texas. Following residency, Dr. Radcliff performed fellowship training in Spine Surgery and Spinal Cord Injury at Thomas Jefferson University, widely considered to be one of the top orthopedic and neurosurgical spine fellowships in the world. He has also visited and operated with leading spine surgeons in the nation and around the world.
Dr. Radcliff is an international expert on diagnosis, nonsurgical, and surgical treatment of spinal conditions. Dr. Radcliff has authored or co-authored seventy six peer-reviewed publications, twenty two textbook chapters on diagnosis and treatment of spinal conditions, and has wonnnumerous research awards. Dr. Radcliff was recently chosen as the liaison of the American Academy of Orthopedic Surgeons to the North American Spine Society Low Back Pain Guideline Committee.
Dr. Radcliff regularly teaches other surgeons at national and international meetings about safely and efficiently performing spine surgery, techniques and complication avoidance in minimally invasive spine surgery, orthopedic basic science, and spine trauma and spinal cord injury.
Dr. Radcliff is incoming Chairman of the North American Spine Society Young Surgeons Forum. Dr Radcliff is President of the Association for Collaborative Spine Research. Dr. Radcliff is a regular invited faculty member at numerous national and international spine meetings including the prestigious "Contemporary Techniques in Minimally Invasive Cervical and Lumbar Spine Surgery" course in St. Louis. Dr Radcliff is also on the faculty at the Cervical Spine Research Society meeting, Association for Neurological Surgeons/Congress of Neurological Surgeons Joint Meeting on Spine, North American Spine Society, and American Academy of Orthopedic Surgeons. Dr. Radcliff is also an active member of the Society for Minimally Invasive Spinal Surgery and Lumber Spine Research Society.