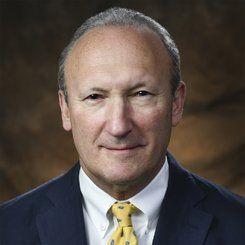 Paul H. Steinfield, M.D.
Specialty: Sports Medicine
Dr. Steinfield is a board certified orthopaedic surgeon who treats injuries and painful conditions of the entire musculoskeletal system. He is often consulted when a patient has more than one area of concern. He sees patients who have undiagnosed pain. He takes care of children, athletes, teens and adults, injured workers and the elderly.
Dr. Steinfield sees patients with neck pain, back pain, shoulder and elbow pain. He has a large hand surgery practice and has worked on the most severely injured patients at the Torresdale Hospital Trauma Center for the past 30 years. Dr. Steinfield offers surgical and nonsurgical treatment options for most conditions.
Dr. Steinfield has been the Section Head of the Department of Orthopaedic Surgery at Torresdale Hospital for the past 20 years. He started Northeast Orthopaedic Specialists in 1996 and founded the Muscle, Bone & Joint Center in Northeast Philadelphia in 1999. He has been recognized as one of Philadelphia Magazines's Top doctors for 2018, 2019 and 2020.