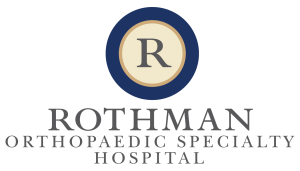 Kelly Doyle, CEO
(215) 244-7400
Rothman Orthopaedic Specialty Hospital Ranked #1 in Value Based Purchasing by CMS
Awarded for providing better care, smarter spending, healthier patients
BENSALEM, PENN. (Oct. 21, 2015) – Rothman Orthopaedic Specialty Hospital (ROSH), a Nueterra-managed hospital in association with the prestigious Rothman Institute, is pleased to announce that it has been voted as the best hospital for Value Based Purchasing (VBP) by the Centers for Medicare & Medicaid Services (CMS). This designation exemplifies the quality of care and patient satisfaction set forth and delivered by ROSH for providing best-in-class healthcare services and savings.
"Receiving this ranking from the CMS is not only a great honor but it reinforces our mission of providing the best care to our patients every day," said Alexander R. Vaccaro, M.D., Ph.D., MBA, President and Richard H. Rothman Professor and Chairman Dept. of Orthopaedic Surgery. "While many hospitals may be strictly concerned with how quickly a patient can be seen, it is our prerogative to offer the highest quality healthcare services and ensure the best possible outcomes to anyone who walks through our doors."
CMS recently announced the results from the Hospital Consumer Assessment of Healthcare Providers and Systems (HCAHPS), a survey ranking numerous sets of hospital criteria based off patients' perceptions of their hospital experience. Of 3,055 qualifying hospitals nationwide, ROSH was voted first for value-based purchasing, an effort to improve healthcare by assessing the quality of care provided over sheer volume.
The HCAHPS results rank patient experience through five experience-based criteria: patient satisfaction, clinical outcome, efficiency and cost reduction, safety and process. The intent is to provide a standardized method to gauge overall satisfaction ratings and help support improvement and accountability throughout the hospital.
"At ROSH, we strive to be a national leader in patient care in every aspect of our hospital," said Kelly Doyle, CEO. "Our team is dedicated to providing the greatest healthcare experience to our patients, no matter their situation. We're honored to be recognized in this capacity by the CMS and for the hard work that each one of our staff exudes on a daily basis."
CMS associates a portion of a hospital's Medicare payments for inpatient acute care to their performance on quality measures, thus increasing Medicare coverage for favorable results.
To learn more about Rothman Orthopaedic and their healthcare services, visit RothmanSpecialtyHospital.com. For additional information about the CMS, visit CMS.gov.
###
About Rothman Orthopaedic Specialty Hospital
Rothman Orthopaedic Specialty Hospital is a multiple-specialty surgical hospital located in Bensalem, Pennsylvania. The facility is the only surgical specialty hospital in partnership with the highly respected Rothman Institute – known for its exceptional care and internationally recognized orthopaedic specialists. Our 65,000 square-foot facility features six fully equipped operating rooms with the latest medical instrumentation. The hospital is equipped for joint replacements, orthopaedic surgery, pain management, and spine surgery, as well as sports medicine, foot and ankle surgery, shoulder and elbow surgery, and hand and wrist procedures.