Patient Satisfaction
Rothman Orthopaedic Specialty Hospital takes pride in our exceptionally high patient satisfaction scores.  As a Medicare participating hospital we utilize standardized surveys that are used across the country.  This uniformity allows consumers to compare patient satisfaction between hospitals. Published scores can be found at Medicare Hospital Compare.
The Joint Commission
Rothman Orthopaedic Specialty Hospital has earned The Joint Commission's Gold Seal of Approval.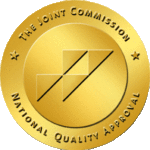 Healthgrades Quality Rankings
Healthgrades quality ratings demonstrate how well patients fared during their hospital stay in terms of mortality, complications, and other quality measures.
Healthgrades objectively evaluates hospital quality by measuring the actual and predicted number of patients who experienced complications during their hospital stay for a specific procedure or treatment. Hospitals are awarded 5 stars (better than expected), 3 stars (as expected), or 1 star (worse than expected) based on their performance in specific conditions and procedures. Patients risk of complications and death resulting from treatment can be significantly lower at hospitals with 5-star ratings.
View Healthgrades rankings for Rothman Orthopaedic Specialty Hospital here.
Hospital Compare
Publicly reported information about Rothman Orthopaedic Specialty Hospital Quality can be viewed on Medicare's Hospital Compare website.  Some of the metrics available here comprise the basis for Medicare's Value Based Purchasing program for which Rothman has repeatedly ranked among the highest performing hospitals in the nation.  Available information includes:
Results of patient surveys
Timely and effective care
Readmissions, Complications & Deaths
Use of Medical Imaging
Payment and value of care
Number of Medicare Patients
Reporting a Concern
Concerns regarding patient safety and/or quality of care can be addressed to:
Director of Quality
Rothman Orthopaedic Specialty Hospital
3300 Tillman Drive
Bensalem, PA 19020
Phone: 215-244-7403
Or
By calling the Confidential Patient Safety Hotline at 215-244-7405.
Or
By contacting the Pennsylvania Department of Health at http://apps.health.pa.gov/dohforms/FacilityComplaint.aspx
Or
By contacting The Joint Commission at www.jointcommission.org, using the "Report a Patient Safety Event" link in the "Action Center" on the home page of the website. By fax at 630-792-5636.  By mail addressed to
Office of Quality and Patient Safety
The Joint Commission
One Renaissance Boulevard
Oakbrook Terrace, IL 60181