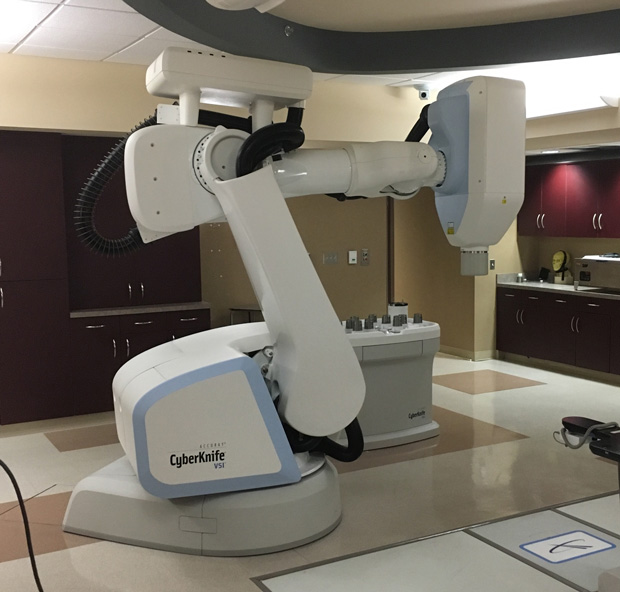 CyberKnife is a fully robotic, non-invasive radiation therapy procedure used to treat cancerous and non-cancerous tumors with precision and accuracy. Like other treatments for cancer, CyberKnife uses radiation therapy to target and destroy cancer cells. But unlike traditional radiation therapy, the CyberKnife system can deliver the correct dose of radiation to the target area with sub-millimeter precision—all in a procedure that takes less than an hour per session. Most CyberKnife patients finish treatment within a week and are able to avoid invasive surgery all together.
Conditions Treated with CyberKnife
At Rothman Orthopaedic Specialty Hospital, our oncology specialists utilize CyberKnife technology as treatment for tumors targeting a variety of metastatic cancers, such as:
As well as benign brain lesions, such as:
How Does CyberKnife Work?
Prior to treatment, our specialists will consult with you to determine your individual care plan and the best way to treat your cancer. During this time, your doctor will obtain a 3D image of the tumor using a CT, MRI or PET scan. Mapping your tumor will help your care team target the tumor.
The CyberKnife system is pain-free and involves no incisions, blood loss or anesthesia. During the treatment, patients can relax comfortably while the CyberKnife delivers a targeted dose of radiation. The system allows us not only to track the cancerous tumors, but to adjust in real-time to moving targets within the body with clinically proven accuracy.
Your doctor will schedule a follow-up appointment to monitor your progress as the tumor begins to shrink.
Make an Appointment to Learn More about CyberKnife
Our specialists are available to answer questions about CyberKnife and discuss your individual treatment plan. CyberKnife consultations and treatments are offered at the Rothman Orthopaedic Specialty Hospital – Jefferson Health in Bensalem, Pennsylvania.
To schedule an appointment or for more information, call 215-244-7407.