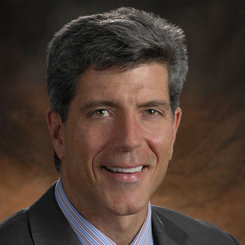 Alexander R. Vaccaro, M.D., Ph.D.
Specialty: Spine
Dr. Vaccaro graduated Summa Cum Laude from Boston College in 1983 with a B.S. in Biology. He received his M.D. degree from Georgetown University School of Medicine where he was promoted with "Distinction." He earned membership in the Alpha Omega Alpha (AOA) Honor Society and graduated with honors in 1987.
He completed a year of Surgical Internship at Cedars-Sinai Medical Center in Los Angeles, CA and his Orthopaedic Surgery Residency was at Thomas Jefferson University where he graduated in 1992.  Dr. Vaccaro completed a Spine Fellowship at the University of San Diego, CA.  He earned a PhD in 2007 in the field of Spinal Trauma.
Dr. Vaccaro is the Richard H. Rothman Professor and Chairman, Department of Orthopaedic Surgery and Professor of Neurosurgery at Thomas Jefferson University in Philadelphia, Pennsylvania.  He was the recipient of the Leon Wiltse award given for excellence in leadership and clinical research for spine care by the North American Spine Society (NASS) and is the past President of Cervical Spine Research Society (CSRS), the American Spinal Injury Association and the Association for Collaborative Spine Research.
He has over 830 peer-reviewed and 210 non-peer reviewed publications.  He has published over 372 book chapters and is the editor of over 65 textbooks and co-editor of OKU-Spine I and editor of OKU-8.  Dr. Vaccaro is the President of Rothman Institute, Chairman of the department of Orthopaedic Surgery, Co-Director of the Regional Spinal Cord Injury Center of the Delaware Valley and Co-Director of Spine Surgery and the Spine Fellowship program at Thomas Jefferson University Hospital where he instructs current fellows and residents in the diagnosis and treatment of various spinal problems and disorders.