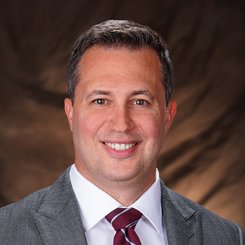 Richard J. Tosti, MD
Specialty: Hand and Wrist
Dr. Tosti is a fellowship trained, board certified Orthopaedic Surgeon who specializes in all conditions of the hand, wrist and elbow. He serves as Associate Professor of Orthopaedic Surgery at Thomas Jefferson University and is a consulting physician for the World Boxing Organization as well as the Ultimate Fighting Championships.
Dr. Tosti received his medical degree from Temple University School of Medicine and trained as Chief Resident in orthopaedic surgery and sports medicine at Temple University Hospital and Shriners Hospital for Children. Dr. Tosti completed the prestigious Hand, Wrist, Elbow, and Microvascular Surgery Fellowship at Harvard Medical School's Massachusetts General Hospital and Boston Children's Hospital during a year when U.S. News and World Report ranked both hospitals #1 in the nation. Under the tutelage of the world renowned Dr. Jesse Jupiter, Dr. Tosti's fellowship was a combined program that integrated him in both the orthopaedic surgery and plastic surgery departments.
Dr. Tosti specializes in trauma and post-traumatic reconstruction of the upper extremity, which includes fractures, arthroscopy, and tendon, nerve, or ligament lacerations. He performs microsurgery procedures including limb salvage surgery, replantation of fingers, hands, and arms, toe to thumb transfer, and free tissue transfers. He cares for injuries and degenerative diseases of the hand, wrist, elbow, and some shoulder conditions. He also treats children for injuries and some congenital conditions.
Dr. Tosti is the recipient of numerous "Top Doc" accolades, including top rankings for both Castle Connolly and Philadelphia Magazine. Furthermore, he has been featured on various news programs including Sirius XM Doctor Radio, Fox 29, and ABC.