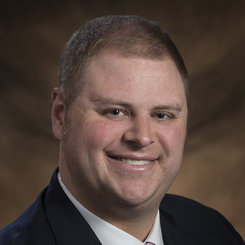 Ryan Pfeifer, D.O.
Specialty: Physical Medicine & Rehabilitation
Dr. Pfeifer is a board certified, fellowship trained Interventional Spine physician. His experience and expertise is in the diagnosis and treatment of neck and low back pain, radiculopathy, coccydynia, fibromyalgia, chronic regional pain syndrome, peripheral nerve pain, abdominal/pelvic pain, and joint/muscle pain.
Dr. Pfeifer's practice focuses on the use of x-ray guided procedures to manage spine pain.  He utilizes musculoskeletal ultrasound for both diagnostic and image guidance for joint, muscle and nerve injections.  Dr. Pfeifer has lectured extensively on a variety of orthopaedic topics, including, Low Back Pain, Concussion Awareness, and Treatment of Fibromyalgia.  As well, Dr. Pfeifer offers patients acupuncture for treatment of a variety of pain conditions.
In his spare time, Dr. Pfeifer loves to travel and has visited all seven continents.