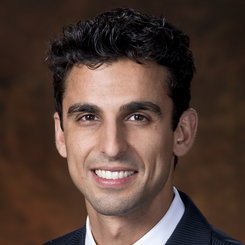 Surena Namdari, M.D.
Specialty: Shoulder and Elbow
Dr. Namdari is an assistant professor of orthopaedic surgery at Thomas Jefferson University. He completed medical school at Brown University and orthopaedic residency at the University of Pennsylvania. He was then awarded a fellowship in Shoulder and Elbow Surgery at Washington University in St Louis.
He specializes in the arthroscopic and open treatment of all conditions of the shoulder and elbow, including arthritis, tendon disorders, fractures, and instability.  He is particularly interested in complex problems, involving bone loss, irreparable tendon tears, or failed previous surgery.
Dr. Namdari is especially committed to the practice of evidence-based medicine and is actively involved in advancing the field of orthopaedics through research.  He has an extensive bibliography of original papers and abstracts and has presented both nationally and internationally.