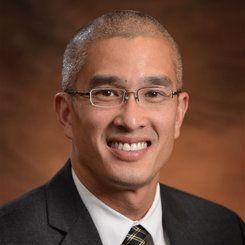 Victor Hsu, M.D.
Specialty: Spine
Victor Hsu, M.D., graduated from University of Pennsylvania and worked in the financial industry for several years. He then felt like he wanted to do more to help society, enrolling and graduating from Temple University School of Medicine where he was selected into the Alpha Omega Alpha honor society. He later completed both his general surgery internship and orthopaedic surgery residency at Temple University Hospital.
Dr. Hsu completed his specialized fellowship training in spinal surgery at the San Diego Center for Spinal Disorders in La Jolla, California.
Dr. Hsu is a board certified orthopaedic surgeon who specializes in all facets of spine disorders. His special interests in spine surgery include degenerative conditions, adult and pediatric deformity and complex reconstruction, minimally invasive surgery, and robotic spine surgery. He has published chapters in various textbooks, presented his research at several national meetings, and has participated in several FDA trials. He also serves as the official team physician for Germantown Academy. More importantly, Dr. Hsu is committed to treating his patients with the personal and expert care they deserve. He works with a team of other spine experts, including surgeons, nurses, physical therapists, rehabilitation specialists, and pain management physicians who bring their diverse breadth of knowledge to each individual patient, resulting in a personalized treatment plan.
Dr. Hsu provides optimal care for his patients with spinal disorders that may affect the shape, alignment, or function of the spine, helping them to restore their spine health and to improve their quality of life.